About Us
Company B.R.B.L. & Sons came in the existence when founder Mr. Babulal Chouhan started this business by reproducing a English sword received from a sword collector around 45 years ago, it was a start of supplying finest quality swords to the most demanding clients globally, in the era where Internet was not very common. After getting a stable path new inventories and team of skilled manpower added to business family.
Today we are known globally as B.R.B.L. & Sons located at Jodhpur in Rajasthan (INDIA) intensively making Swords, Knifes, Bayonets Damscus Blades, Gifts, Furnitures, Leather Goods, Accessories and powder flask for collectors and cadets around the world. We made a mark among peoples for making a reproduction of originals which have a value of original.
In last 45 years we recently exhibit in arms exhibition in Nuremberg Germany where we meet several companies who want us to make reproduction of there stuffs and at that time we believe our struggle has made this happen for us, our second motto of this exhibition was to let people know B.R.B.L. & Sons is the brand originally serving from Jodhpur – India.
we also kindly request you to be aware from fake companies with similar designs and names who can disappoint you by taking your original samples and money. So, whenever you receive any email or call from similar or fake company who insist you for orders please let us know as soon as possible so that we can take instant action against them so that you don't caught in any trap.
Thanking you,
Babulal Chouhan
Founder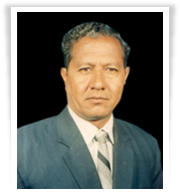 Mr. Babulal Chouhan
Founder